---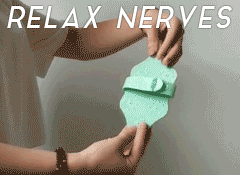 9 x 360 ° Metallic Rollers - 9 rolling balls, a 360-degree rotating position, can massage any point of your body. The wrist strap, which is attached around the index, middle and ring fingers, ensures a better grip.
Palm Shape Design - Palm shape design, easy to carry on hand and convenient to use. Rolls back and forth anywhere anytime. Used for massaging the right points of the body, to promote blood circulation, relax muscle pain.
Relaxation - Helps to remove the fatigue, improve the eyesight, prevent neck diseases and dizziness, activate and beautify the skin. Whether for the tense shoulders, arms, neck, thighs etc. the new massage glove is at your side.
Easy to Use - Massage your body easily and wherever you want. The light and practical device can be used anywhere. Enjoy a massage while watching TV or relaxing at home.
Perfect Gift - The Palm Shaped Massage Glove is the perfect gift for wellness fans - surprise your sweetheart - soothing head massages for the whole family.
This section doesn't currently include any content. Add content to this section using the sidebar.